News 
Applications now open for CGIU:
To check out everything going on in the basement:  https://www.ucsdbasement.com/
Register for the Strauss webinar here:  https://us02web.zoom.us/webinar/register/WN_PzZIR2LkS86NF7fcjA2qIQ
PROSPECTIVE STUDENT SESSION SCHEDULE
See our full lineup of sessions between now and January 2022. We anticipate adding more events to support students interested in applying to the Verizon & CGI U Social Innovation Challenge, so be sure to
check here
for updates.
CGI U PROGRAM AND APPLICATION OVERVIEW
Learn about the Clinton Global Initiative University year-long student program, CGI U 2022, and its extension programs through Verizon, IBM, and Up to Us. During this session, students will learn more about the programs, CGI U Commitment to Action model, and how to start the CGI U application process.
Register:
Calling all UC Student Innovators:
INNOVATION AMBASSADOR APPLICATIONS NOW BEING ACCEPTED!
Are you interested in social impact, entrepreneurship & innovation, or public service? The Big Ideas Contest, open to all 10 UC system campuses, is seeking highly-motivated students from across the UC system (graduate or undergraduate level) with a demonstrated interest in social impact and entrepreneurship to serve as Big Ideas Innovation Ambassadors.
 
Advance your ideas from the lab to market with the AIM Grant!
Date: August 12, 2:00-3:00PM PT
Attendance Link: https://ucsd.zoom.us/s/99523806152
To learn more about the Associate Product Mgr Program click here: 
https://schmidtfutures.com/our-work/talent/associate-product-manager/
---
Our 2021 Women in Global Policy seminar is less than one month away and deadlines to apply for a scholarship and register for the seminar are fast approaching!
This year, our Women in Global Policy seminar will run from May 17th to May 21st. Participants will learn how to launch their international policy career through participating in policy discussions, diplomacy simulations, networking sessions, and more. Hear from students about the impact of this seminar on our blog, The Plenary, here.
---
Join the 21 day Anti-Racism Challenge:  https://diversity.ucsd.edu/initiatives/21-day-anti-racism-challenge/index.html
---
---
 REGISTER TO ATTEND: https://ucsd.zoom.us/webinar/register/WN_u0KT8EnTSxuRdeqPJ09eDQ
Design Lab Showcase
Thursday, February 4, 2021
4 – 6 p.m. PST
Register here:  https://web.cvent.com/event/4332cf05-a5b7-43a0-8400-8c464e412a48/regProcessStep1?locale=en-US
Just a quick reminder that CGIU applications are due this Friday, January 29th at 11:59 EST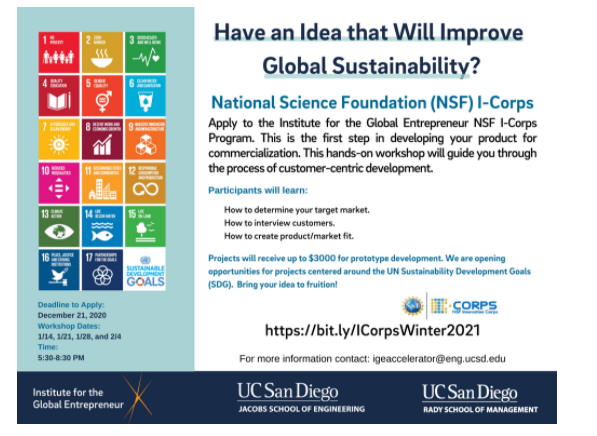 UC San Diego Changemaker Institute in partnership with the Institute for Practical Ethics (IPE) presents a 3-part quarterly webinar series focused on Global Ethics of today's most pressing issues, such as climate change and advances in genetic manipulation.
Engineering for Good
One Village Philippines
Philipines Team Field Trip