Diabeatit

Prospective Students
All majors are welcome! Specific majors we are looking for include: Computer Science, Public/Global Health, Cognitive Science Design & Interaction, Biology, Psychology, and Education Studies. We are recruiting students interested in working with Unity and C Sharp, and prospective students should familiarize themselves via online tutorials. We are also recruiting students interested in or with experience with health education or designing for children.
Mission Statement
We aim to educate children about the risks and mechanisms of type 2 diabetes. We are taking a preventative approach to engage children in making healthier choices, such as their diet and their activity level, so that they develop healthy habits early in life. 
Overview
Diabeatit is an application designed to educate children in the age range of 8-13 about type 2 diabetes, aiming to promote healthy lifestyle habits that can help decrease their risk of diabetes. The goal is to create a hands-on experience for kids, and we plan to implement Diabeatit beyond apps on personal devices, to implementation as semi-permanent fixtures in public spaces, such as schools and waiting rooms of clinics and doctor's offices. In the future, we hope Diabeatit can grow beyond an application into an immersive health education experience that's both informative and entertaining. 
Previous Work
Create a cohesive design system
Synthesize contents from previous quarters
Create engaging and appropriate UI for target users
Current Work
Current Working Prototype here!
Implement Figma designs into Unity
Continue improving and designing cohesive UX/UI
Begin sound design including sound effects and voiceovers

Achieve MVP by the end of this quarter

Focus on Software Development

Finish all hospital mini games along with intro for final deployment
Subteams
Development
This subteam focuses on implementation and coding the application in Unity and C Sharp to produce a product prototype and working alongside the Design subteam to implement design decisions that the team comes up with. 
Design
This subteam works to produce culturally sensitive and age appropriate content, take children's feedback as evidence to drive design decisions, and ensure that Diabeatit is intuitive, re-playable, and educational. They conduct user testing with children to gather valuable insight and feedback and interview children to create personas of user groups. They then communicate their research findings to the rest of the team. They also work on developing low-level prototypes and then work alongside the Development subteam to translate those prototypes into implementation.
Partner
Anupam Garg and Vidya Mahavadi of the UCSD Medical School aim to promote health education through interactive experiences nationwide. They hope to educate people on the causes and effects of various diseases that could lead to prevention and improved care. 
Team Members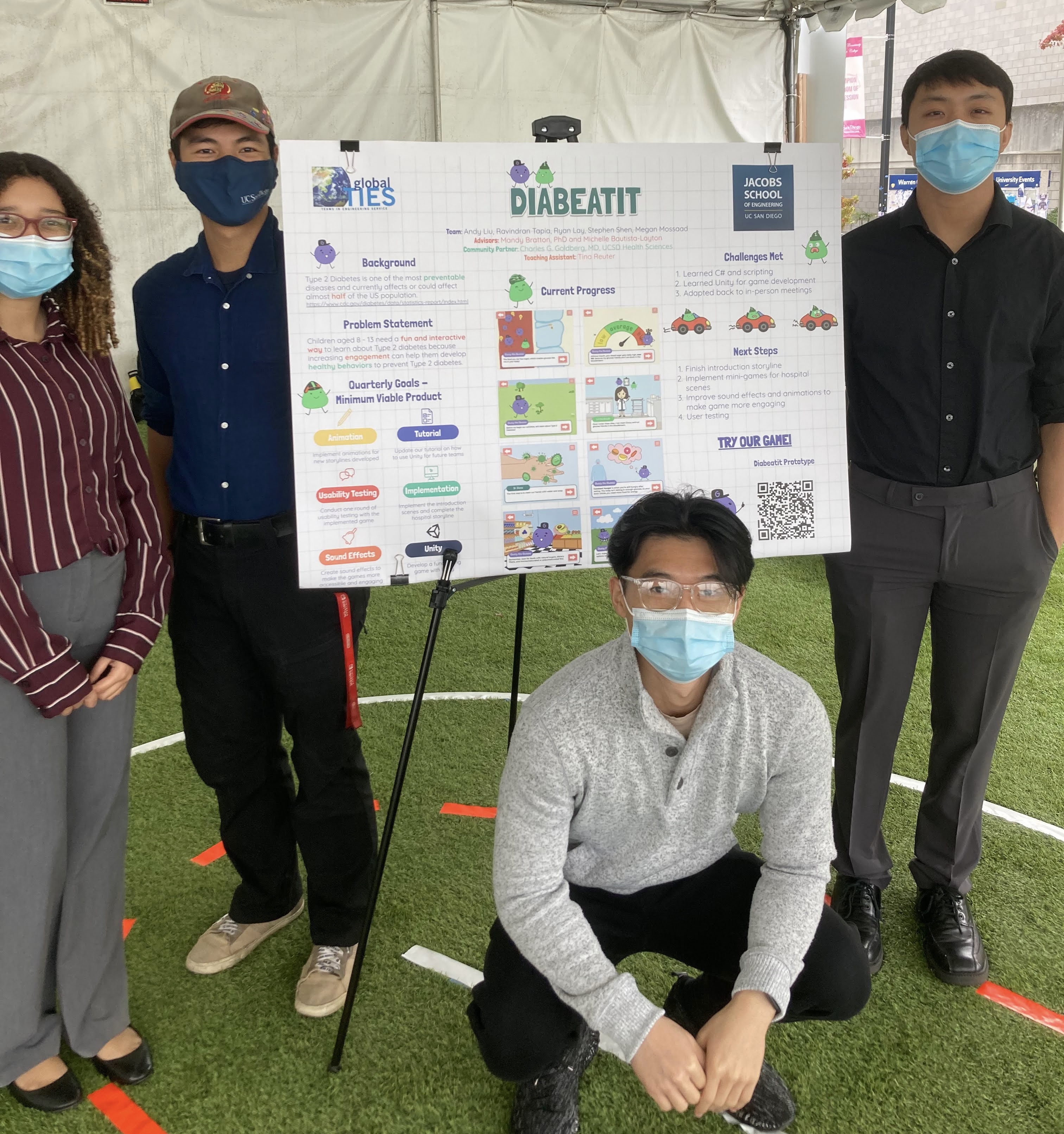 Design Roles
Team Lead

Researcher

Sound Production

Animation
Development Roles
Members
Ryan Lay - 3rd Computer Science, Cognitive Science Minor

Izabella Barcellos - 3rd General Biology, Human Development Minor

Ravindran Tapia - 3rd Computer Science, Cognitive Science Minor

Amanda Mark - 3rd Cognitive Science, Psychology, Design Minor

Anthony Vivas - 3rd Cognitive Science, Design, Design Minor
Faculty Advisors
Charles G Goldberg, MD

Vidya Mahavadi, MD

Anupam Garg, MD/PhD Candidate
Graduate Advisor
Michelle Bautista Layton
Undergraduate Advisor
Megan Mossaad

Previous Team Members
Ryan Lay

Megan Mossaad

Stephen Shen

Andy Liu

Ravindran Tapia