K-12 STEAM Education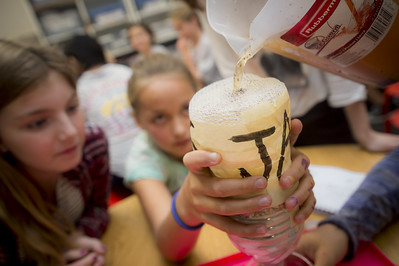 Problem Statement
We are inspiring K-12 students to pursue STEAM careers by providing hands-on lesson plans and access to resources.
Prospective Students
Students passionate about STEAM and education in underserved communities
Mission Statement
Our mission is to visit schools and introduce fun and interactive STEAM-related activities to students in K-12. We not only want to help create an interesting and engaging environment, but we also want to mentor the students so that they may consider pursuing higher education in the future in STEAM.
Quarter Goals
The goals of this quarter include going to at least two schools as well as establishing new relationships with more schools for future quarters. In addition, the team is striving to implement at least two new lesson plans while also recycling previous ideas. We are working with both new and old schools to strategize content around a new topic. We hope to introduce new STEAM topics such as computer science, climate change and sustainability while also empowering girls in STEAM! 
Current Solution
Current Progress
Brainstormed new lesson plans for K-12 students

Reached out to different schools in SD county

Implemented more creativity into lesson plans to incorporate a STEAM education
Faculty Advisor
Dr. Jan Kleissl
Andia Pebdani
Undergraduate Advisor
Team Members
Jacqueline Kao
Mahesh Hosangadi
Previous Team Members
Breno Madi De Biasi: Team Lead
Krystal Hirahara: Scribe
Tsz-Wai Kwok: Client Liasion
Some Former and Current Partners
Rancho de la Nación Elementary

Johnson Elementary School 

Pacific Trails Middle School 

Foothill Oak Elementary 

Carmel Valley Middle School 
Gallery